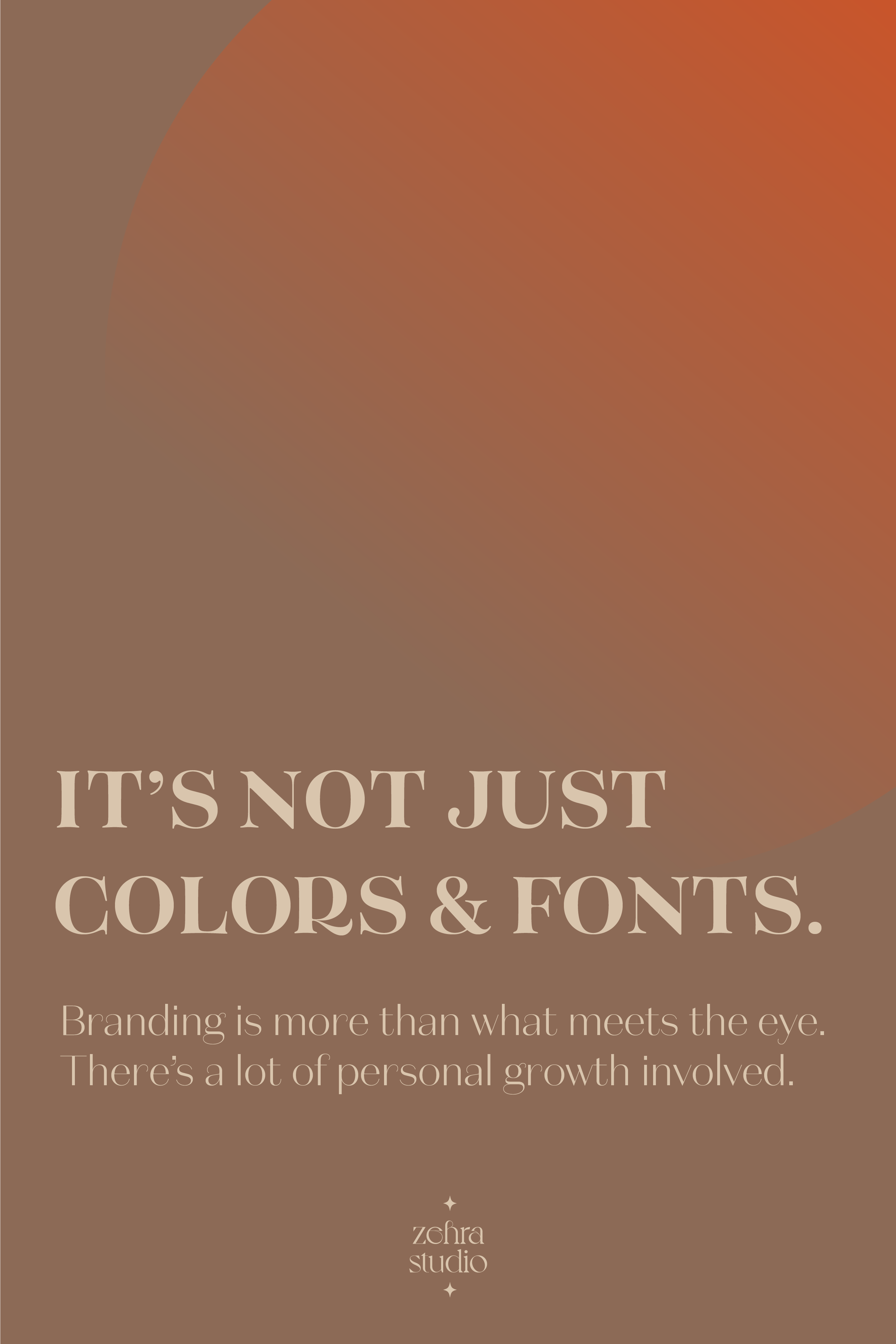 Over at Zehra Studio, we just offboarded one of our clients this week & sent her out into the world with her shiny, new brand. To see both her brand development unfold & personal growth during our time together was awe-inspiring. I'll never forget what she said on our last call:
"​​It's not just rebranding… I didn't realize that when I first signed up for this experience. It's so much more."
It may not make a lot of sense to a random passerby, but to me, it meant the world. Because this is a personal mission I'm trying to get people to realize—when you invest in your brand, you're not just investing in your business, you're investing in your personal growth & development journey.
Chances are, you won't be the same person when you finish as you were when you started.
And when it's time for a rebrand, 9 times out of 10, you'll feel it before you can see it.
Hearing her statement reminded me of myself, a little more than a year ago. In May of 2020, I started to feel heavily disconnected from the identity I was showing up as every day. I felt unclear in my intentions & my mission, and it became a struggle for me to even show up at all.
To be honest, it was a bit panic-inducing as I felt myself straying from the path I'd been on for the last 2 years. Up until that point, I had felt so sure of myself, who I was, & what I wanted. But I'm here to remind you that our personal growth journeys are not linear.
As humans, we are meant to pursue personal growth & evolve throughout our lives.
As we do so, our interests change, our values change, & our beliefs change. It's normal to feel some resistance, uneasiness, & general discomfort when you go through these periods of change, but that's not a bad thing. It's when we embrace our evolution & step into the new, upgraded versions of ourselves that we are able to experience the next chapter of our lives.
It can be tempting to resist & stay where it's comfortable, but holding onto your past identity will only keep you stuck in limbo, where all you feel is a gross feeling of uncertainty & disconnection. However, it's hard to let go when you don't understand the new identity you're stepping into.
When I went through that period of disconnection a year ago, I had to go through a process of rediscovery to better understand my new self that had seemingly snuck up on me in the middle of the night. This process helped me redefine my mission, realign myself with my purpose, & clarify my next steps so I could move forward with confidence in both my personal life & in my business.
It's not a coincidence that this is the first step we take with our clients when they invest in a branding experience with us.
The discovery phase is the most important part of our experience, as it not only lays the foundation for all the work that we do together, it also helps you get clear answers to questions you never even thought to ask yourself (this is all part of personal growth, as well!). So if you feel you've reached a crossroads with your personal brand, are feeling disconnected, & need help pivoting into your new identity & direction so you can confidently express yourself to the world, allow us to be of service. Get in touch with us using the contact form below, messaging us on Instagram, or inquire formally about our services here.